New
Partnership
Expands
Health
Care
Choice
and
Lowers
Costs
for
Patients
and
Employers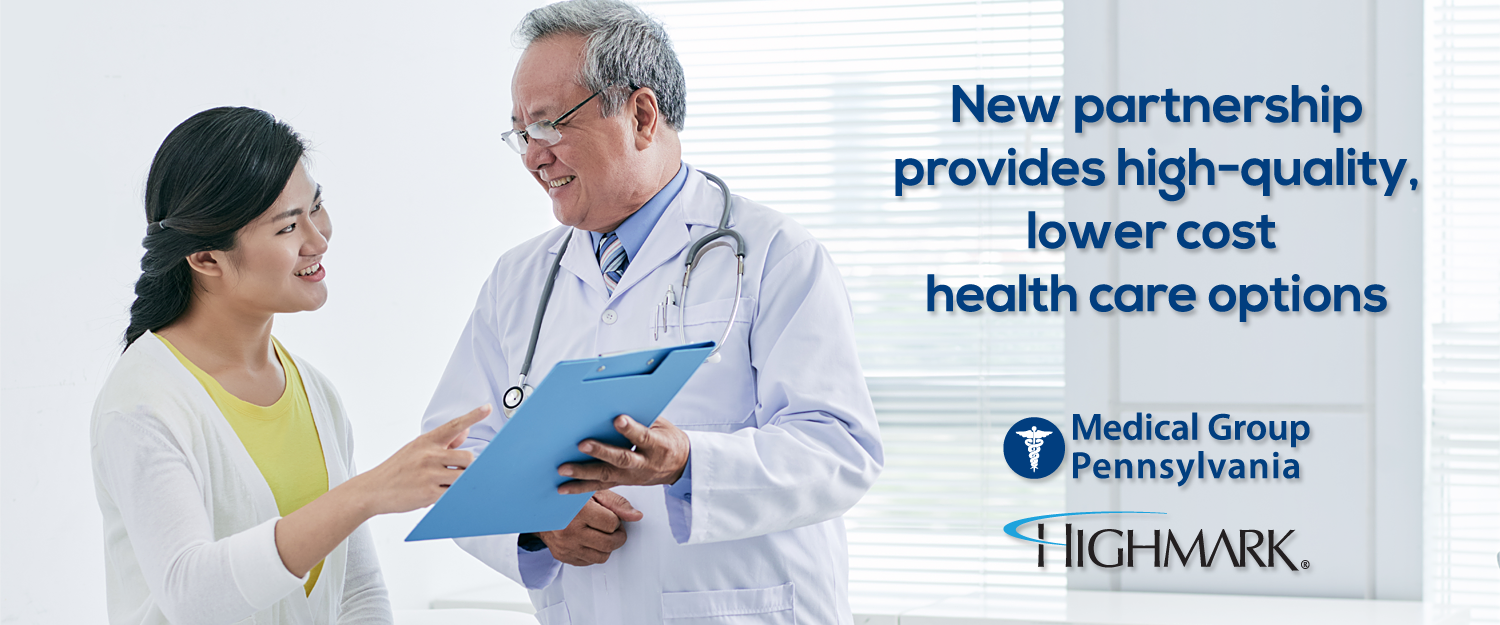 Safa Farzin, MD, Medical Group of Pennsylvania Chief Executive Officer
There are now new options for central Pennsylvania businesses trying to hold down insurance costs while assuring options for quality health care for their employees. A strategic partnership between the Medical Group of Pennsylvania (MGP) and Highmark was announced on September 8, 2017. This partnership and Highmark's True Performance Plus program will open the door for patients to receive quality health care, often at a lower cost, from independent physician practices that will now be in-network providers.
Mergers Have Impacted Patient Choice and Costs
Historically, large scale consolidations in the central Pennsylvania health care market have forced some independent physicians – those not owned by a hospital or health system – and their services out-of-network.
These consolidations have impacted patients by restricting their choices for health care needs and increasing costs for services for both patients and employers. Large health care systems and payers often negotiate higher rates of services, and many times patients are charged a facility fee just for being seen in a large health system facility. Independent practices do not charge facility fees and are able to keep costs for services lower, yet still deliver high-quality care, because they do not have the overhead expenses of the large players in the market.
This is why the new partnership between MGP and Highmark is a huge step forward. Through Highmark's True Performance Plus program – an innovative, value-based reimbursement model – patients and employers gain choices for where to receive quality health care and possibly experience great cost savings as well. 
Rewards for Performance
Highmark's True Performance Plus program allows MGP's independent primary care physicians to maintain their focus on patient-centric care, creating better patient outcomes, keeping patients' cost for services lower, and preserving their independence. The format is a shift from fee for service to reward for performance and improve outcomes for patients.
The partnership allows MGP's network of more than 75 local, independent physician practices to receive funding and support from Highmark to continue developing the tools and technology needed to better manage care for patients. When the practices meet certain care quality and cost efficiency targets, they may receive additional performance bonuses.
Partnering for Better Care
As the health care landscape continues to change in central Pennsylvania, independent physicians are looking for ways to remain at the forefront of care delivery. This relationship allows MGP's members to maintain their focus on patient-centric care, creating better outcomes, and keeping patients' costs lower. Additionally, our collaboration with Highmark allows us to work closely with a respected insurance provider and remain independent.
"This partnership between Medical Group of Pennsylvania and Highmark will certainly allow physicians to have active practices, but the real winners are the patients," shared Todd Fisher, MD, a primary care physician and MGP Board member. "They will continue to have an option to see the physicians they choose. Patients need to have that option. My goal has always been to provide quality care for patients. This [partnership provides] the best environment for me to provide quality care in a cost effective manner."
Together the Medical Group of Pennsylvania and Highmark will focus on managing care through prevention and care coordination to improve quality, outcomes and reduce long-term health care costs.
To learn more about this partnership, contact the MGP office at (717) 553-0910.